Why Use Woodworking Plans for a Home Business?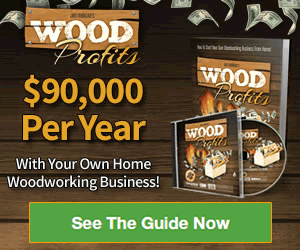 If you want to do woodworking to make money, you'll need to be very innovative and creative. You'll have to use your time wisely and ensure that the quality of your finished projects is unquestionable. The best way to accomplish this is to use woodworking plans that you can trust.
Making use of a woodworking plan for every project that you build will ensure that you produce a quality piece in the shortest possible time.
There are many places on the internet where you can find woodworking plans. Some of them will be free to download and others you would have to purchase. Some plans include instructions on how to customize them to make them more original.
The Importance of Using a Plan
With a good plan, you will definitely have an easier time producing a quality project. It will save you a ton of stress and uncertainty. Novice woodworkers often have a problem not knowing what materials they need or even which tools they will require. However, a good woodworking plan will cover all these aspects in detail. You will know exactly what you'll need to successfully complete a specific project, from the right kind of materials to the best tools for the job.
That is why it's crucial that you select your plans very carefully.
It's easy to just pick any kind of plan that you find online. There certainly are some good free woodworking plans to be found. However, you'll also come across some real duds. Can you imagine the cabinet you worked so hard on ending up with a horrible wobble? Or doors that don't properly fit? You need to ensure that the plans you decide to use come from a professional woodworker who's had years of experience.
Some woodworking projects will require more working space than others. A good plan will tell you how much space you'll need for your project. Note the suggestions and plan your working space. Be sure that your budget will allow you to complete your project before you do anything!
When woodworking to make money, everything will work out easier for you if you have a good woodworking plan. It will guide you through the whole process from start to finish. If you're a beginner woodworker you might want to start out with a free plan; you can always advance to more professional plans later on.